*Open internationally*
I finally decided to have a giveaway, I´ve been wanting to do this for a while and finally I found a little something that I thought would be a nice giveaway prize!
It´s not a huge prize with a lot of different products as I see some bloggers have, but it´s a little personal gift from me to the lucky winner:-)
As some of you know, I work as a hairdresser (I just finished my first year as apprentice), and I thought it would be nice to give away a product that I personally love and use on a daily basis.
It´s a bottle of Moroccan Oil, one of my favorite hair treatments. It´s a 25ml bottle and perfect for bringing with you wherever you may go, be it the gym, sleepover, a party - or when you´re out traveling! :)
This oil contains lots of moisture, care and it also works as heat protection! Apply a little amount to towel dried hair, or dry hair during day if you´re having trouble with frizzy or dry hair :)
This is a brand new, un-opened/un-used product, only taken out of packaging to take photos.
It´s worth about GBP

£14.50

/ USD $21.50 / EUR

€

17.30 (I have converted the price based on the Norwegian cost).
I´m using Rafflecopter for the giveaway, and I think that will work out just fine :)
The giveaway will last for about 14 days, for some reason I thought that was a nice number.
Enough time for people to enter and enough time for me to check how this whole thing works out!
Oh, and as I said before, this is my first giveaway ever, so I hope I do everything right :)
I´m already looking forward to announce the winner :D
There is a couple of mandatory entries, such as "Follow via Twitter" and "Follow via GFC" - I wasn´t sure wether to set them as mandatory or not at first, but found out that it would be nice if the winner is a follower of my blog or twitter, or at least is in the "blogger world",
fair enough, don´t you agree?
Good luck to you all :)
Here´s a picture that you can use in your sidebar (if it´s too big please let me know and I´ll put up another one)
(copy the code and paste into Html/JavaScript gadget in your sidebar)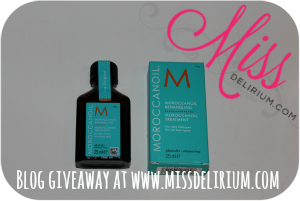 <center> <a href="http://www.missdelirium.com/2013/03/my-first-giveaway-prize-moroccan-oil.html"><img src="http://i1267.photobucket.com/albums/jj552/missdelirium/moroccanoil_bloggiveaway_sidebar_zps3f58ede6.png"/></a> </center>
Tweet