Last week I bought a Urban Decay Rollergirl Palette from Gemma´s blogsale at
www.missmakeupmagpie.com
♡
I was thrilled to get my hands on this palette, and for such a nice price too! I have been so desperate to get this palette I remember I even posted a post on here asking if anyone could get it for me! haha. I think it´s the pink (Woodstock) that made me want it so much..
♡
Anyhoooo, it´s mine now and I couldn´t be happier :D I just HAD to try it on today! Been working a 9hrs long shift today and my eyes are in the same state as when I went for work early this morning!
I also purchased NYX Jumbo Eye Pencil in Milk from Gemma´s blogsale.
That´s another piece I´ve been wanting for AGES. NYX is not available in Norway and with taxes/shipping on various online stores it gets so expensive when it´s originally so affordable!
When I first was getting the Rollergirl Palette (review/swatches coming up) I just had to get the Jumbo Pencil as well.
I´m not regretting that one single second, I used it for the first time today and I was literally
IN LOVE

♡
I´m not feeling a 100% complete without my lashes, but I don´t have time putting them on in the morning so need to rock my own natural ones...;)
It´s such a nice red shade with gold shimmer and turning slightly towards orange.
And hey, this crochet scarf I´m wearing - I made that myself, just sayin´! Super proud woohoo;-)
Face:
✩
Estee Lauder Matte Perfecting Primer
✩
Maybelline 24/hr stay foundation #SAND
mixed with
✩
DIOR Sculpt Foundation #030
✩
Georgio Armani Liquid Concealer
✩
Max Factor Creme Puff Powder #41 Medium Beige
Eyes:
✩
Smashbox Eyeprimer - all over lid
✩
NYX Jumbo Eye Pencil MILK - all over lid and browbone
✩
UD Rollergirl VERVE all over lid and browbone
✩
UD Rollergirl SUSPECT Outer corner and crease
✩
UD Rollergirl DARKHORSE Outer corner
✩
UD 24/7 Eye Pencil Whiskey
✩
Isadora Glossy Eye Liner
Lips:
✩
The Body Shop Colorglide Lipstick #60 Cherry Sparkle
✩
MUA Lipliner #Red Drama
Have you remember to enter my GIVEAWAY yet? :)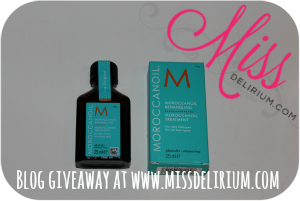 <center> <a href="http://www.missdelirium.com/2013/03/my-first-giveaway-prize-moroccan-oil.html"><img src="http://i1267.photobucket.com/albums/jj552/missdelirium/moroccanoil_bloggiveaway_sidebar_zps3f58ede6.png"/></a> </center>